Across the country, diverse teams are joining forces to design composite projects, from mixed- use inner-city precincts to civic memorials and weather-resilient homes. We asked the architects involved on a few of these current and future projects about the role of collaboration.
In recent years, an increasing number of architectural projects have demonstrated the immense value of working collaboratively. Large-scale architectural competitions often require participants to comprise a team, sometimes multidisciplinary, and many private clients also recognize the benefit of bringing together the complementary skills offered by different practices.
Here, we present a series of recent and yet-to-be-completed projects that illustrate this approach to working together. While the collaboration types are diverse, collectively they promote varied design practice and the act of pausing to reflect on our own approach to design. In-house conversation and critique have always been part of a good design process, but broadening this dialogue to include different practices, consultants or disciplines can have an impact far beyond the built work itself, such as increased cultural understanding or technological advancement.
Each project on these pages illustrates a different way of collaborating for the architect/s involved: with other architects on different buildings on the same site, to contribute a rich layering of urban fabric; on a positioning strategy with a university; with cultural consultants (importantly, prior to any design work being initiated); with artists to embed space with culture, narrative and meaning; with governments, local councils and community groups; and with scientists. All are born from continuous dialogue and result in the opportunity to see things from a different perspective – challenging us to push boundaries and to innovate.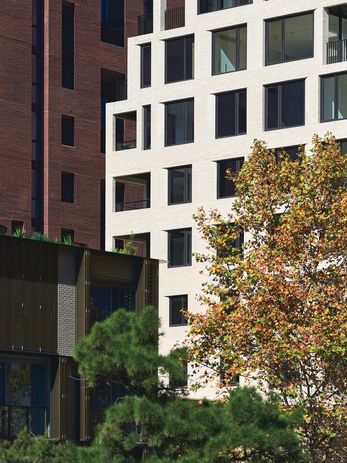 Quay Quarter Lanes
Quay Quarter Lanes is the rejuvenation of two city blocks in the heart of Sydney at Circular Quay. The project is part of the wider Circular Quay Sydney project, which also includes the Quay Quarter Tower, designed by 3XN and BVN, and the 33 Alfred Street rejuvenation project, designed by Johnson Pilton Walker.
The Quay Quarter Lanes project comprises a collection of new and restored buildings and the creation of new arcades and laneways. Together with the neigh-bouring Circular Quay rejuvenation projects, it contributes to a generational reshaping of this gateway to Sydney Harbour. Three new buildings, designed by SJB, Silvester Fuller and Studio Bright, complement the site's heritage-listed former wool store (Hinchcliff House, restored by Carter Williamson) and the Gallipoli Memorial Club, restored by Lippmann Partnership. A public domain and landscape design by Aspect Studios stitches together the new and the old.
The Quay Quarter Lanes project design team was assembled in 2014 through an alternate design excellence process for established and emerging practices, run by the City of Sydney and the client, AMP Capital. A deliberate decision to appoint a collective of architects instead of a sole author has resulted in a diverse collection of buildings and spaces that suggest a gradual evolution rather than a precinct that has been designed all at once (which often results in a homogenous and less authentic place experience).
Design collaboration can take many forms. In this instance, it involved all architects working in parallel with each other. Each practice was responsible for conceptualizing a unique identity for its individual project while being mindful of its neighbours, both new and existing, to create a family of buildings and spaces sitting happily alongside each other.
The collective agreed with its developer client on a shared vision for the precinct that was then uniquely interpreted through each practice's own process. The differing processes and subsequent responses to the shared vision provide a valuable insight into how varied design practice can be and how this difference contributes to the richness of our cities. Working in parallel enabled practical benefits, too, such as the ability to coordinate circulation pathways through the site and share services across the precinct to maximize the active frontages around each building.
The entire design process encouraged a supportive and collegiate culture that is beneficial for architects but also essential for the good of our cities. Great cities are shaped by a collection of buildings and spaces that do not compete with one another but, rather, complement one another as they respond in their own way to a shared vision for city-making.
— SJB, Silvester Fuller and Studio Bright
Collaborators: SJB (coordinating architect and designer for 9–15 Young Street), Studio Bright (designer for 18 Loftus Street), Silvester Fuller (designer for 8 Loftus Street), Carter Williamson (designer for 5–7 Young Street), Aspect Studios (landscape designer)
Project type: Mixed-use development
Client: AMP Capital
Location: Gadigal land Sydney, NSW
Completion date: April 2021
QUT Campus to Country
The QUT Campus to Country positioning strategy is about privileging local Aboriginal culture within the future masterplan of an educational campus. It aims to achieve this in two ways: first, through face-to-face consultation on an ongoing basis with QUT's Pro Vice-Chancellor (Indigenous Strategy), Elder-in-Residence, the Oodgeroo Unit (QUT's Aboriginal and Torres Strait Islander student support centre) and members of QUT's Aboriginal and Torres Strait Islander student community; and second, through a culturally led, urban and architectural framework that establishes applicable manoeuvres for enabling opportunities to connect with Country.
Collaboration – a fundamental prerequisite of the strategy – is needed for all future works within the QUT masterplan and heavily influences the standard approach to procurement and building delivery. The strategy is based on relationships and requires ongoing engagement between QUT (and its future architectural agents) and the Aboriginal and Torres Strait Islander community. QUT has begun to establish the long-term relationships and structures required to enable future architects to engage in a meaningful way.
This project came out of a deeply informed process of engagement and conversation with the representatives identified above, in addition to QUT's Facilities Management. In alignment with BVN's vision, "Collective creativity to design a better future," all parties contributed to and influenced the final proposition. The generosity of the Campus to Country positioning strategy is that it is about sharing culture and knowledge.
— BVN
Collaborators: QUT (cultural leadership and facilities management), BVN (architect), Simone Wise (urban planning and design consultant), Keisha Thomason (graphic designer and artist)
Project type: Positioning strategy
Client: Queensland University of Technology (QUT)
Location: Turrbal and Yuggera land Brisbane, Qld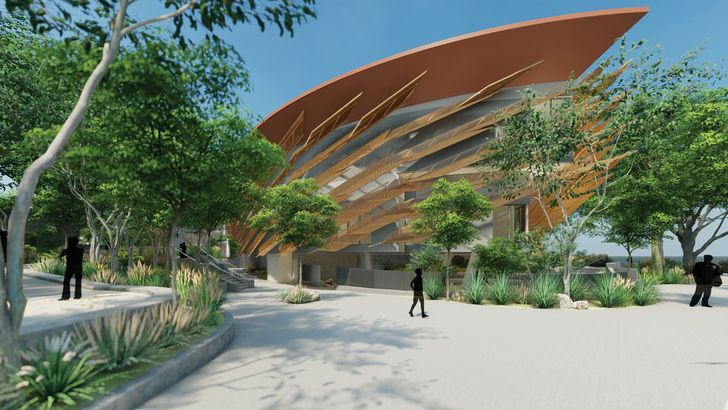 Larrakia Cultural Centre
The Larrakia Cultural Centre (LCC) will be an important new development for the Larrakia people and the whole Darwin community. The site rests between a Larrakia sacred site (Stokes Hill) and the sea. This is an essential relationship as the Larrakia are "saltwater people." The LCC will exhibit Larrakia culture and history in various ways, to showcase Darwin's ancient history, as well as provide a place for Larrakia people to practise their living culture, including teaching and sharing Larrakia language.
The client, Larrakia Development Corporation (LDC), has been collaborating with the LCC Working Group since 2017 to develop and deliver the project. To ensure that we undertake this project in a culturally appropriate way, and deliver a design that will support client and community aspirations, we have been guided by the LDC and the Working Group throughout the process. Before any design work was initiated, multiple workshops were held to inform the sketch design and concept.
Each stage of the design involves questions back and forth and presentations to the LDC and Working Group for feedback. The design develops responsively, in line with the feedback. Sometimes, this process requires multiple iterations, until every Working Group and LDC member is satisfied with the outcome.
LDC and the Working Group's ongoing feedback has been essential, not only in guiding the design culturally and environmentally but also in challenging us to push the boundaries in how the form and overall design can respond to their concept. We have been grappling with balancing technical requirements with their strong vision for the LCC. However, we are grateful for, and enthusiastic about, how this process has shaped something unique and powerful, so far. We will continue to work as a collaborative team to ensure that this dedicated methodology is maintained for the final outcome.
There are also other opportunities for Larrakia community members to be involved in the design. A cultural adviser for endemic plants and biomes has been collaborating with the landscape architect. Larrakia artists will embed their storytelling and skills into the fabric of LCC. The nine Larrakia families within the community will be invited to give their input into the stories, messages and media of the exhibition space. Consultation will be undertaken by Larrakia research assistants directly engaged by the exhibition design team.
— Rossi Architects and Susan Dugdale and Associates
Collaborators: Larrakia Working Group (cultural consultant), Rossi Architects (architect), Susan Dugdale and Associates (architect)
Project type: Cultural centre (including exhibition spaces, art studio and teaching, classrooms, conference rooms, retail, kiosk, administration offices, outdoor performance stage and ceremony dance circle, cultural maintenance spaces and Larrakia biomes)
Client: Larrakia Development Corporation
Location: Larrakia land Darwin, Northern Territory
Expected completion date: June 2024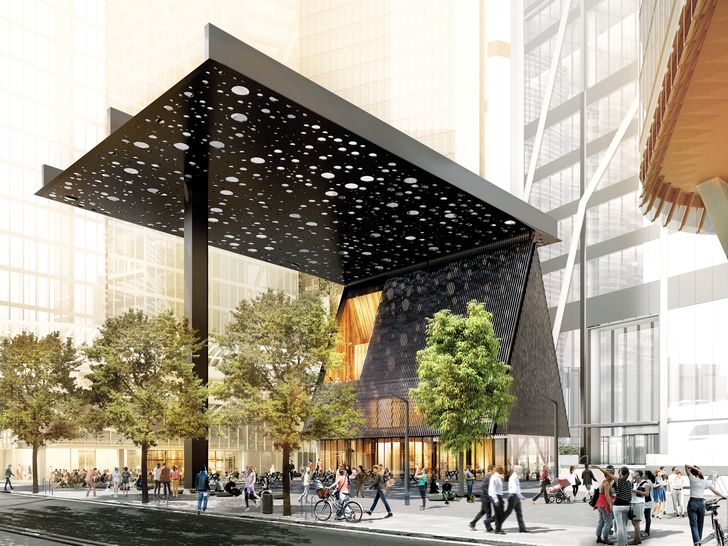 George Street Plaza
George Street Plaza is envisioned as a dynamic new community place that will reinvigorate Sydney's Circular Quay district as well as address the complex relationship between colonizers and Indigenous communities. Driven by the desire to defeat the idea that history begins at the time of conquest and to reveal the stories that existed prior to conquest, the project is a collaboration between lead design architect Adjaye Associates and artist Daniel Boyd, with Architectus as executive architect.
The genesis of the design was a dialogue between David Adjaye and Boyd on contemplating our relationships in and with the world. Spaces become places when they're embedded with culture, narrative and meaning; therefore, the question of what story is being told is always present within the built environment. The architecture of George Street Plaza draws upon the forgotten histories of Aboriginal cultures as a means of innovating a future built upon a shared understanding of the past.
The centrepiece of the project – a perforated canopy – weaves together past and present innovations to create a community experience defined by shelter and the intricate sculpting of light. Originating from the idea of placemaking in Aboriginal culture and the primary need for shelter, the canopy integrates a public artwork that heightens physical and spatial consciousness through its interplay with natural light. As light enters the structure through the perforated dawar (meaning "star" in the language of the Kuku Yalanji Aboriginal peoples), the duality of perception is highlighted where the repeated pattern and filtered light create a unified form, activated by the public.
As a space of collective engagement, the seating zones take inspiration from an Aboriginal grinding stone found within the context of the site. In this seating, produced from a single piece of local, coarse-grained sandstone, artifacts of the past support the community, literally and figuratively. Ultimately, George Street Plaza transforms a collaboration and dialogue between artist and architect, past and present, null and void into an entangled space of community gathering.
— Adjaye Associates
Collaborators: Adjaye Associates (lead design architect), Architectus (executive architect), Daniel Boyd (artist)
Project type: Community plaza
Client: Lendlease on behalf of the City of Sydney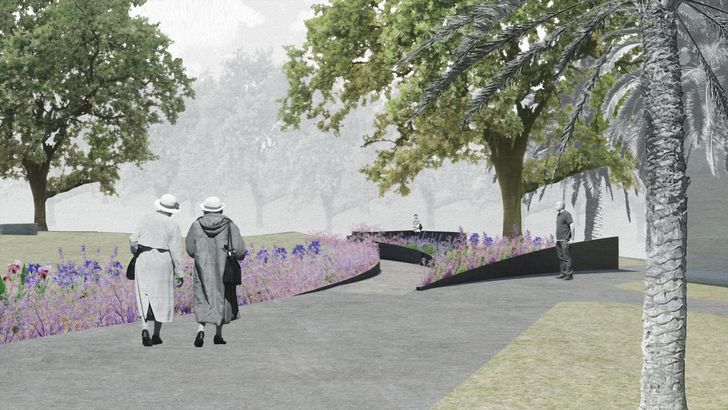 Location: Gadigal land Sydney, NSW
Expected completion date: 2022
Family Violence Memorial
Muir and Openwork share a studio space and regularly collaborate through projects, competitions and speculative research. Our practices are united not only by our previous experiences of working together, but by an attitude to design that tries not to superimpose an authorial signature onto a site, but instead to find simple, powerful and economical ways of teasing out and transforming places for occupation that might not have existed previously.
Through our joint conversations and investigations, the disciplines of landscape architecture and architecture are blurred. Collaboration helps us to leave behind familiar habits and to produce work that is charged by a hybrid vigour. The collaboration has been fostered by a keen interest in the role of the civic and in the potential of leftover spaces and neglected interfaces as sites for speculation. This allows for small and powerful formal interventions that become embedded in place. Separated from the constraints of "the building," these responses seek to employ a series of civic and spatial gestures that alter the behaviour of those who engage with the space.
In many ways, the collaboration between our two practices is a three- way dance: all our projects have been in partnership with Phil Gardiner, principal director at civil engineering firm WSP in Australia. This serial collaboration has enabled a direct, shorthand way of working in which engineering and architecture are iterative and indivisible.
The brief for the Family Violence Memorial was highly sensitive and complex. Rather than acknowledging a fixed moment in time, this is a memorial in motion. Its role is to educate, to speak up, to be heard and to provide a space for those impacted by this societal issue.
During the design process, we collaborated with elders from the Wurundjeri, Bunurong and Boon Wurrung peoples. These conversations were led and guided by Indigenous adviser Sarah Lynn Rees in collaboration with City of Melbourne. Layered narratives and learnings associated with the sensitivities of the project's site and the Indigenous relationships to Country guided and informed the design response.
Our act of collaboration allows for a conversation rather than a monologue and speaks to the power of more than one voice. In this project, the voices that need to be heard are those with lived experience of domestic violence. Jennifer Jackson and Russell Vickery, representatives of the Victim Survivors' Advisory Council, have been essential collaborators, guiding the design as it has evolved. The voices that need to be heard are those of the Traditional Custodians of the land upon and within which the memorial sits. T he memorial's key refrain – Ngarru biik marrna Guliny dillbadin / Lore of the land keeps People safe –manifested from conversations with the Traditional Custodians and is translated on the site in Woi Wurrung language.
In our role as designers, we are facilitators and translators of site or program and of the voices of others. The act of collaborating, listening and interpreting allows for issues such as family violence to have another voice, another agency and a visibility in a permanent, built form. The project is not simply a design intervention; it is also a formal and a political one.
— Muir and Openwork
Collaborators: Muir (architect), Openwork (landscape architect), WSP in Australia (engineer), Boon Wurrung Foundation, Bunurong Land Council Aboriginal Corporation, Wurundjeri Woi Wurrung Cultural Heritage Aboriginal Corporation (Traditional Custodians and cultural advisors), Department of Families, Fairness and Housing (funding and project delivery oversight, and victim survivors' stakeholder management), City of Melbourne (design, project and stakeholder management, and responsible land manager), Victim Survivors' Advisory Council (consultant), Forced Adoption Practices (memorial stakeholder)
Project type: Memorial
Client: City of Melbourne and Office for Women, Department of Premier and Cabinet
Location: Wurundjeri land Melbourne , Vic
Expected completion date December: 2021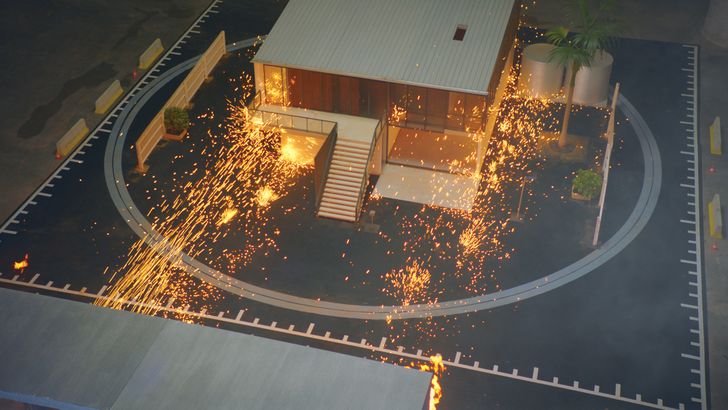 One House
One House is an initiative led by Suncorp Insurance, which has seen first-hand the devastation that climate change and increasing extreme weather events are having in Australia. The brief was to design a modern take on the traditional Queenslander home, making it resilient to floods, bushfires and cyclones. The project is a collaboration between teams of experts: CSIRO (Commonwealth Scientific and Industrial Research Organisation), James Cook University (the Cyclone Testing Station and Centre for Disaster Studies), Room 11 (architects) and Suncorp representatives (who were aware of the threats faced by their insured housing stock, particularly in northern Australia).
As the architects, one of the components we spent time perfecting, in collaboration with a CSIRO materials scientist, was glazing – to keep embers out, filter out radiant heat, prevent cracking, avoid water penetration and so on. As architects, I don't believe we think enough about construction at a molecular, dynamic level, and it was exciting to work with experts who could validate our work and give us the confidence to keep pushing ideas.
This project refocused the architectural conversation from fashion and luxury to the machine of architecture and its cultural and material performance. This is an imperative shift for architects because we need to answer the questions that matter: Will my house protect or incinerate its occupants in our annual fire season? Will I have drinkable water after a disaster? What will I lose if my house is flooded?
Collaborating on One House has had many benefits for the project outcome and for us as architects. It resulted in a prototype for a modern, attainable family home that provides a refuge in times of severe weather, protecting the occupants and allowing them to live comfortably even in the aftermath of an extreme w e ather even t .
As architects, it shifted our practice's perspective on the relative importance of parts of our decision- making. For example, we realized that tiny fixings and details can have a huge impact on performance during an extreme weather event.
Within the cross-disciplinary collaboration, the combination of mutual respect and freedom to suggest ideas resulted in much more rapid progress than if we'd been working in isolation. It was genuinely exhilarating and enjoyable. Now, when I have questions or concerns on other projects, I feel able to consult my expert colleague from One House.
Finally, as architects, we are used to discussing detail, but this project reminded us not to allow that detail to derail the overall project outcomes. I believe this is a skill we need to actively maintain, for without it, we will eventually become building fashion designers and lose our capacity to transcend the noise of society.
— Room 11
Collaborators: Suncorp Insurance (initiator) CSIRO (fire resilience) James Cook University (cyclone resilience) Room 11 (architect)
Project type: Research (prototype)
Client: Suncorp Insurance
link